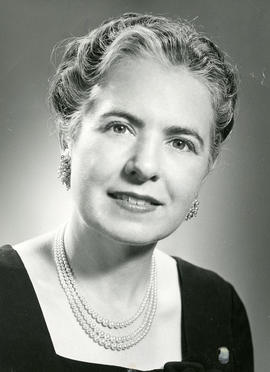 CA MRUASC F0038
Fonds
1896-[201-], predominantly 1940-1998
Fonds documents Paterson's career as a teacher of speech and drama at Mount Royal College, her adjudication work at festivals across Canada, her involvement with Knox United Church, and her work as director of the Mount Royal College Conservatory.
The fonds contains: scrapbooks, daily date books, speech arts theory exams, scripts, travel diaries, programs for speech and drama festivals, photographs of Mount Royal faculty and Paterson's friends and family, Knox United Church records, speeches, toasts, poems and scripts collected by Theresa M. Siegel, audio reels of performances, interviews with Leona Paterson, and original poetry by her husband Harold "Pat" Paterson. The fonds is arranged into the following series: scrapbooks, professional activities, teaching, Harold Paterson, Theresa M. Siegel, personal records, and audiovisual materials.
Leona Paterson