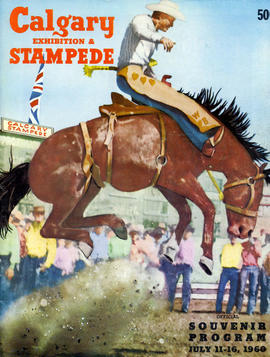 Blaine Canadian sports history collection
CA MRUASC C0011
Collection
1906-2019
Collection documents the history of professional, amateur, and varsity/collegiate sport in Canada, particularly hockey, football, baseball, golf, and rodeo. The collection illustrates the development of these sports in the 20th and early 21st centuries (the period from the 1940s to the 1990s is particularly well-documented), and focuses on Canadian leagues as well as international leagues in which Canadian teams participated. Most of the collection relates to Canadian teams and athletes (although American teams are also well-represented), with a particular focus on Alberta and Western Canada.
The collection largely consists of publications, ephemera, and promotional objects including: game and tournament programs, photographs, magazines, media guides, yearbooks, schedules, calendars, trading cards, game tickets, pins and buttons, pennants, patches, and decals.
The collection is arranged into 5 series by sport: hockey, football, baseball, golf, and rodeo (devoted to the Calgary Stampede). The collection was meticulously organized and documented by the donor Bob Blaine, with most of the collection housed in binders that are arranged by level of competition (professional, amateur, varsity/collegiate), league, date range, and type of material. The contents of each binder are further arranged, typically by material type and date, and many items are accompanied by detailed supplementary contextual information provided by Blaine.