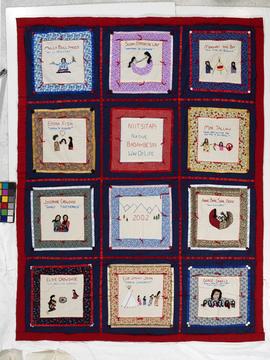 CA MRUASC F0056
Fonds
1972-2011, predominantly 1999-2003
Fonds consists of materials from Dr. Linda Many Guns' research project, "The Ten Grandmothers Project" (initially called "The Ten Old Ladies Project"), based on Many Guns' interviews with traditional Blackfoot elders in southern Alberta and the United States. The research project was focused on the elders' teachings about the role of women in Blackfoot society and was carried out while Many Guns was Executive Director of the Nii Touii Knowledge and Learning Centre.
The fonds consists of one series containing audio recordings of the interviews, as well as transcripts, release forms, notes, correspondence, a draft manuscript of a book Many Guns intended to publish, drawings, fabric samples, and photographs. Also included are other audio recordings of Blackfoot language lessons, songs, and dances.
Linda Many Guns